Now for a review about lip products! Today it will be American Apparel Lip Gloss and Revlon Just Bitten Kissable Balm Stain.

I got this American Apparel Lip Gloss for free when American Apparel was having one of their "free" promos in the Fall. It was one where you just had to bring in the ad and you could get a free lip gloss, no purchase necessary :D They also had a promo where you could get free nail polishes so I got African Violet and Mannequin. My point is, remember to watch out for these promos because it seems like they have them every year.
This lip gloss line comes in 9 shades and I decided to get it in Café Crème. I think I was debating in between this and Intimate since they look pretty similar, but I am content with my decision. It's a very nice brown/pink shade and looks natural on my lips. I don't know, I'm just not one for bold lips so I tend to enjoy the ones that basically enhance my natural lip colour. It has this sort of "makeup smell" to it but it's not that strong so it isn't too big of an issue. It glides on well and is not too shiny, but is one of those sticky glosses :( I usually layer it over a lip balm since I don't think that this really has moisturizing properties. It lasts for a good few hours or so and like most lip products, it does not accentuate dry flakey lips! These glosses come in 7 ml tubes and costs $12 which is kind of expensive I think (I don't actually buy lip glosses) but it is a really nice colour so maybe I'll buy it when it runs out.

Another lip product I've tried is the Revlon Just Bitten Kissable Balm Stain in Honey. I decided to try it after reading reviews that it was actually pretty moisturizing and provided good colouring. This is another one that is a sort of brown shade but is slightly more bold than the AA lip gloss. It is a twist up balm, like other lip balms. It is really easy to apply; almost feels like you are drawing on your lips with a crayon. Something unique about it is that it has a light peppermint smell! It's noticeable if you randomly smell the balm, but it can't really be smelt after you apply it. This claims to be a 'balm stain' and it really does do the job! Colour stays on for a while plus it is moisturizing (not as moisturizing as regular lip balms though). My main issue is that I'm not really into the colour selection so it's probably not the balm stain for me. I bought this at Wal-mart for $6.95 so it is decently priced and a good value since it is like two products in one!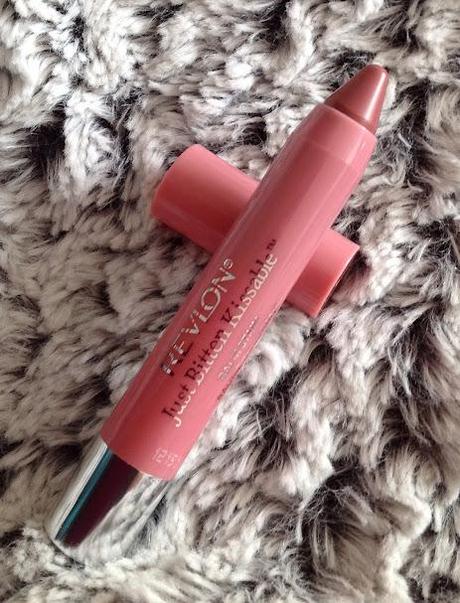 Here is the swatch: Revlon on the left American Apparel on the right